BS10A-H24/2.0L

Stocked product
Inquiry / Quotations
Ni-MH Battery Package

• Applicable power supplies
- HNSP9-520 series
- eNSP3-450 series
- mNSP3-450 series
• Comparing with our ordinary Lead Acid Batteries, Ni-MH Battery has 1.5 times longer discharge time and 3 times longer lifetime.
• Built-in heater to prevent decrease of capacity at low temperature. Battery package condition signal available (at charging or backup).
• 5-minute backup time at 300W, 8.5 minutes at 200W.
• RoHS compliant

This product serves for both cycle use and standby use.
Battery Data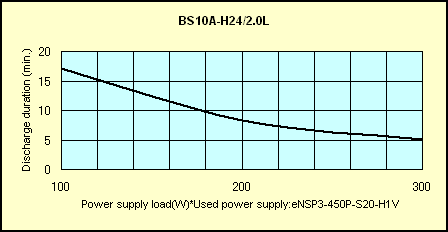 Standard, specifications
: For standard and specifications, click each item.
Compatible case size
5 inch bay size
Outline drawing
146Wx38Hx200D
Weight
1.80 kg typ
Applied battery
Sealed Ni-MH battery (1.2V x 12 in series connection)
Nominal battery power voltage
24V
Rating capacity
2000 mAh
Built in fuse rating
30A 32V
Operating temperature
0 to 45 deg.C/10 to 90%
Storage temperature/humidity
30 days max.: -20 to 50 deg.C<br>
90 days max.: -20 to 40 deg.C<br>
One year max.: -20 to 30 deg.C<br>
Warranty
One year after delivery; if defects belong to us, the defective unit shall be repaired or replaced at our cost except defects caused by over discharge.